Like many others, we've been very tentatively taking our first steps out since the pandemic started. Wolverhampton beckoned and seemed positively exotic for a day out. We'd already been to some outside venues and thought it was time to see how comfortable we felt inside. Having researched online, we were delighted to see that a very nice Thai restaurant had survived the pandemic. It was open for lunch so we decided to visit the city, and set off by car.
On our arrival in Wolverhampton, we found a car park charging just £1 for four hours which was a nice surprise. However, our delight soon turned to annoyance. We parked the car and tried to pay this small sum of money. We've become used to cash not being universally accepted these days and although a little annoyed that the meters no longer accepted our pound coin, we tried to use the "RingGo" app, the only way of paying.
The app was already installed on my phone, but I recalled that I'd never quite managed to work out how to use it last time I tried. At least that time there was a cash alternative so I had abandoned the app. However, this time the cash alternative had disappeared. So there we are, standing in the middle of a rather empty car park, trying to hold my phone and credit card and input lots of details. It then asks for a password. For security, we're always being told not to use the same password, so there's no way we'd remember. I had to get a new one. However, despite pressing the "forgot password", no email came to let me reset it. I then tried to phone the number on the meter. A brief message said that my account had been deactivated and the line cut off. Not even a "press X to speak to an assistant".
Can you help, Mr Parking Attendant?
At that moment, I saw a parking attendant. Hopefully he'll help, I thought – not a chance. For the measly pound, all he could offer was that he wouldn't give us a ticket while we tried to pay. When we said we were unable to pay, he couldn't offer any solutions as basically it wasn't his department. The only way of paying was through the app and my account had been suspended. I did offer him the pound, but he couldn't accept it.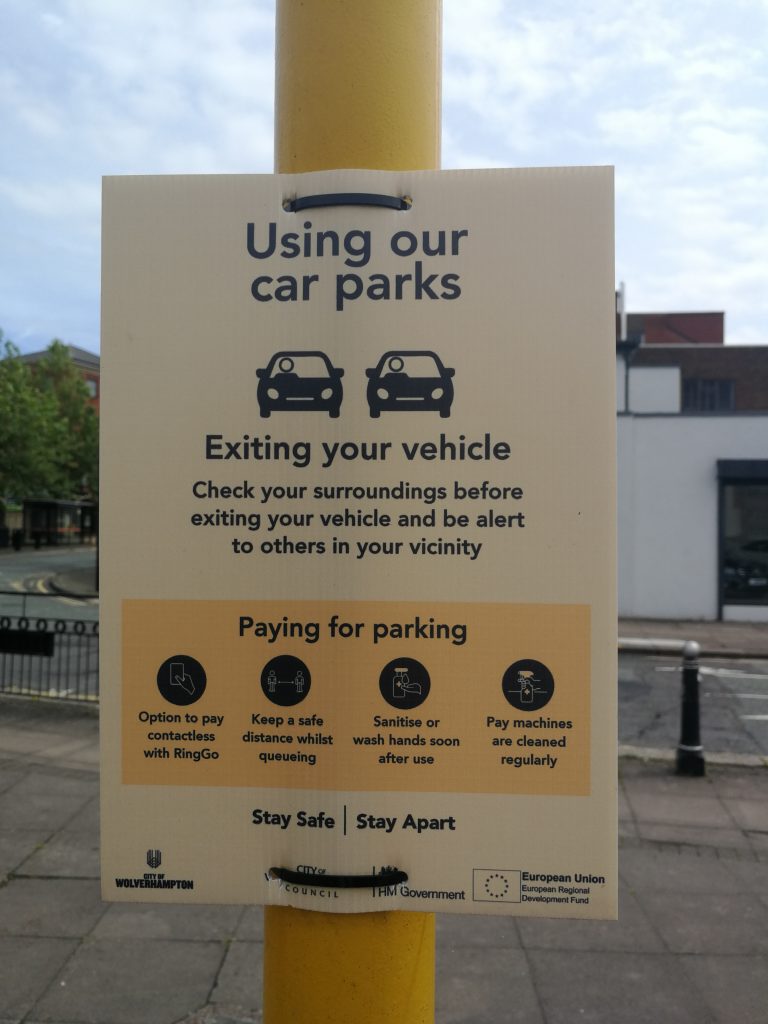 In the circumstances, as he'd seen us try to pay, I did wonder if sense might prevail and he'd say to just leave a note on the dashboard to that effect, or perhaps offer us some other suggestion. But no. He was adamant we had to pay for the car park even though we couldn't. The only advice he could give was that we tried other car parks which took cash (which were more expensive and due to the one way system took some navigating to get to). We duly went on our way, feeling most unwelcome and wondering why we'd bothered in the first place.
RingGo Replies, but not Wolverhampton Council
Back home, I emailed both RingGo and the Council. I have yet to hear back from the Council, and since it has been a couple of weeks since the incident, doubt I will. RingGo sent a very curt email to say that they had reactivated my account which had been closed for being dormant. Not a sign of an apology for any inconvenience. Why they would choose to close accounts during a pandemic is beyond me.
---
More from Central Bylines
---
A week later, having sorted out my RingGo account online at home (much easier on a laptop than on a phone in the middle of a car park), we set off back to Wolverhampton to try again, as the promise of a lovely Thai lunch very much beckoned.
We arrived at the car park and duly used the RingGo app, a little fiddly, but it worked. We decided we only wanted 2 hours which cost 50p. However, when I came to use the app, I was shocked to be charged 80p. Somewhere on one of the signs, it did say "a small convenience charge MIGHT apply". This small charge turned out to be 30p. That's actually 60% more than the price quoted. Let's not forget that there is no other way of paying, so surely this charge should be made clear? These days, you wouldn't think twice about paying 80p for two hours, but why couldn't it say that and be more honest? For whom this additional charge was "convenient" remains a mystery.
Surely the Council should be doing all it can to safely encourage people back into the city rather than chase them away? Shops and hospitality venues have had it hard enough. If businesses are going to stop taking cash for small amounts, surely the alternative proposed should be easily accessible.
Looking around the city, it needs all the help it can get, rather than chasing people away with difficult to use apps and extra charges. Come on, Wolverhampton, surely you can do better than this in welcoming an old Polytechnic student back to your city.