Leek is a small market town in the northern tip of the Staffordshire Moorlands, just a few miles from Three Shires Head where Staffordshire, Derbyshire and Cheshire come together. It's a strange place therefore to find a plaque 'To the memory of sons of France'. Leek may be a long way from the channel coast but its links to France pre-date the European Union by a couple of hundred years. Today, the heart of this French connection can be found in this fascinating, bustling market town and its people.
Huguenot refugees from France are known to have arrived in Leek in the 1680's but it is Napoleon we must thank for the strongest French connection.
Soldiers on parole
Between 1803 and 1815 over three hundred French prisoners were held in Leek during the Napoleonic wars. Mostly naval and military officers were 'paroled' in Leek, with their servants and sometimes their families also captured by the British. Having spent some time in a prisoner of war camp, those of a certain status were granted parole, offering a limited amount of freedom in exchange for undertakings of good behaviour.
Leek was among the 50 provincial towns designated as parole towns in order to reduce pressure on the purpose-built prisons in the south of England. The prisoners on parole were required to remain within one mile of the Market Square in Leek, had a curfew of 5 o'clock in the winter and 8 o'clock in the summer, had to muster twice a week in the Market Place, and were paid a small allowance for basic living expenses. They were largely welcomed into local society.
Many were subsequently exchanged for British prisoners. Forty-four are thought to have escaped and some returned to France when hostilities ended in 1814. Sadly some died while in Leek and are remembered on gravestones in the churchyard of the imposing Parish Church of St Edward the Confessor – these include: Joseph Debec, Jean Baptiste Nillot and Charles Luneaud. Others, however, married Leek women and settled in the town, with their descendants in Leek to this day. The last Napoleonic prisoner died in Leek in 1874.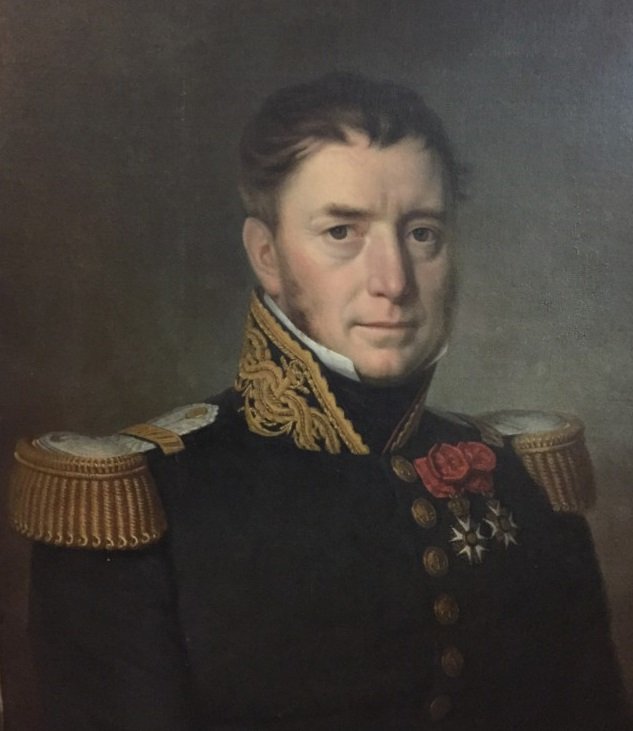 Memorials
It is in the churchyard of St Edward's that can be found a memorial plaque in memory of these French prisoners.
To the memory of the sons of France, who, taken as prisoners of war, came to Leek on parole during the years 1803 to 1812, and lie at rest here and elsewhere in our community.
This memorial was unveiled by THE BARON GOURGAUD President of the Fondation Napoléon and the Souvenir Napoléonien, March 26th 1996
A la mémoire des fils de France, qui, faits prisonniers de guerre, furent retenus sur parole à Leek de 1803 à 1812, et reposent en cette enceinte et dans autres lieux de notre communauté
Ce mémorial a été inauguré le 26 mars 1996 par le Baron Bourgaud, Président de la Fondation Napoléon et du Souvenir Napoléonien.
Nearby to the cemetery where the 'sons of France' are buried is a group of houses known locally as Petty France, thought to be an anglicisation of petite France, probably in recognition of the French souls lying nearby.
French lessons
Being restricted to a small area around the town centre, opportunities for parolees were limited and their allowance was barely sufficient to live on so many officers added to their incomes by giving French, dancing, drawing and singing lessons to English families in their homes. Many also created arts and handicrafts that they sold in a small shop in Derby street owned by prisoner Captain Neau and his wife.
---
More from Central Bylines
---
An air of romance
Jacques François Neau was captain of the Perseverance, captured in 1803, and paroled in Leek the same year. Within a few months of arriving in Leek he married local woman Mary, daughter of Matthew Lees, landlord of the Duke of York Inn on Derby Street.
Their daughter Emma died aged four on 8 February 1810, and her grave may be seen in the churchyard of St Edward the Confessor. Two more daughters were born to Jacques and Mary before he deserted his English family and returned to France in 1814. His English marriage was not recognised in France, as was the custom at that time, so he wasn't the only French prisoner to leave his English family destitute.
The highest ranking French officer to be sent to Leek was General Jean Baptiste Brunet, arriving on parole in 1804 along with his Adjutant General, aide-de-camp, and his servants. Two of Brunet's servants married local women: Jean Vatel married Sarah Spilsbury, but did not stay in Leek; while Jean Baptiste François Mien married Frances Smith and settled in Leek along with their children. Mien was employed on the building of Mount Pleasant Chapel and became a Methodist. He died in 1870 and was buried in the Mount Pleasant Chapel graveyard – his gravestone can still be seen on the site today (now the garden of the Beth Johnson flats).
Descendants of Jean Baptiste François Mien still live in Leek today. Mien's mother is regarded as a something of a local heroine by the people in her home town of Ris-Orange in France for speaking out against the French revolution. She was a member of an anti-revolutionary party and something of a firebrand, threatening the chief of the local national guard with her husband's felling axe!
General Brunet returned to France in 1814 where he was made a Knight of the Order of St. Louis.
Legacies
At the time Freemasonry was a very important feature of French army life with many regiments having their own lodges. It is not surprising therefore that the parolees in Leek established their own lodge 'Réunion Désirée' and chapter 'De l'amitié', meeting at the Red Lion in the Market Place.
Naval officer Louis François Achille Perier Comte de Salvert, a member of the French nobility, arrived in Leek in 1804 and had three children by Ellen Goostrey whom he married while living in Leek. It's quite possible, therefore, that people living in Leek today have aristocratic French blood in their veins.
Pierre Louis Magnier was a farmer before being conscripted into Napoleon's army. He was captured at Flushing in 1809 and paroled in Leek the same year. He married local woman Ann Thompson two years later and died in Leek aged 93 – a shopkeeper. His descendants – he had a son and a daughter – still live in Leek today.
Leek's French connection runs long and deep. From French graves in Petty France, to those alive in Leek today with French ancestry, Leekensians in whose veins perhaps runs aristocratic French blood. A European heritage lies firmly at the heart of the Staffordshire Moorlands.