Chesterfield Borough Council backed going plastic free in 2019 under its climate change policy, having declared a climate emergency in April last year. It is a move with cross-party support that is currently being pushed again by the Liberal Democrats, whose Glynis Falconer is taking over the mayoralty. (The Borough is Labour controlled).
They are working on this with local organisation, Plastic Free Chesterfield. Their aim is firstly to reduce and then eliminate the use of single use plastic. So far the council has replaced plastic cups with biodegradable ones and removed "plastic spoons and straws from many of our facilities", according to a statement on the council's website published in October 2019.
According to a Liberal Democrat press release on 26 October 2020:
"The average UK home produces 1.1kg of waste every single day. Households can take some steps to reduce the amount of plastic they buy, but it comes down to retailers and producers taking action. Most of these powers lie with the Government, but we believe that local councils can help, and that Chesterfield Borough Council (CBC) can and should do more."
This suggests councils lead by example both in their own actions, as mentioned above, but also in requiring suppliers to also move to reduce, eliminate and recycle plastics. The council can also encourage and support local businesses to reduce plastic use, and work with retailers and others on reducing plastic use and other waste. This can include working with organisations like the Waste and Resources Action Plan (WRAP), which has programmes both to support local authorities and on plastics.
______________________
More from East Midlands Bylines
______________________
Using such resources and its own cross-party consensus, Chesterfield can lead by example in reducing single use plastics including drinks bottles, plant pots and so on.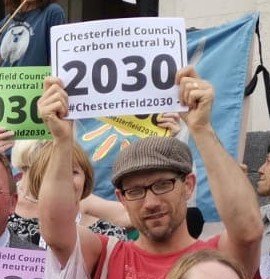 Ed Fordham, Chesterfield liberal democrat spokesperson on climate change, explains:
"by changing all our shopping habits and by working with retailers, suppliers and manufacturers Chesterfield can make real progress towards the objective of becoming Plastic Free. We believe that CBC can make a real difference to re-use, re-cycle and massively reduce the amount of plastic this Borough sends to landfill and into our eco-system. This will require leadership and partnership."
It is to be hoped that a year from its initial launch Chesterfield Borough Council does not relent in its drive.
Notes
1. Plastic Free Chesterfield are looking for organisations interested in reducing their single-use plastic whilst also supporting the aims and objectives of Plastic Free Chesterfield. To become a Plastic Free Ally, groups / organisations must take the Plastic Free Pledge. They must pledge to:
remove single-use plastic from their group, e.g. if they hand out plastic cups at a group meeting – note: if they don't offer/use any single-use plastic, they qualify
remove single-use plastic from their group, e.g. if they hand out plastic cups at a group meeting – note: if they don't offer/use any single-use plastic, they qualify
communicate their plastic free stance internally and externally, and
support Plastic Free Chesterfield and plastic-free initiatives locally
From: www.plasticfreechesterfield.weebly.com
2. For more information about Plastic Free Chesterfield please contact their Community Lead, Greg Hewitt at [email protected]