Thirty years ago, almost to the day, I left my two young children in the care of a trusted friend and set off for a hospital visit that would unquestionably change my life. I will never forget the words that my friend spoke as she waved me off – something any good friend might say in fact: "Don't worry. Everything will be fine." But it wasn't. And those words have held a resonance for me ever since.
So, although I know it's a reflection on people's kindness to try and be positive about the future, I simply can't bring myself to say those words to anyone else who might be facing an uncertain time ahead. Better, for me at least, to adhere to that more generic and realistic assertion of 'all being well'. Hedging my bets if you like, but it's an ideology that has certainly helped me through the three decades since my first cancer diagnosis.
Survivor's guilt and grief
Actually, sometimes I wonder why it is that I'm still here. I'm 68 now. Not young anymore but not really old either. Quite a number of my friends who shared the disease with me died when their own children were very small and at a time when they themselves had full and productive lives to look forward to. They have never been forgotten to me, these women, but I still carry the guilt of their passing, knowing that although their deaths were not my fault, I ought not to have been the one to survive. It's irrational, I know, but there you are. At least it's honest.
It's said that there are five stages of grief (denial, anger, bargaining, depression, acceptance), whether or not it is for the loss of a person or indeed something else that has held great meaning in one's life. I grieved for my father long before he died, when dementia had filched away the person that he was, but that did not stop me loving him right to the very end. Yes, there were many times when anger rumbled inside me at the cruelty of his demise, but ultimately it was acceptance that became my trusted coping mechanism. Once I had achieved a measure of that acceptance in my life, I was able to offer support to others in a more practical and meaningful way. It was really no different when it came to dealing with my cancer experiences.
Coping is an individual matter
Having said that, I am more and more convinced that personality and environment play a huge part in how anyone is able to cope. It may seem obvious because we are all who we are, but in the world that we presently live in, so much pressure is put upon us to behave or live in a certain way and not always the way we would choose. Magazines, newspapers, the internet, television – they're all at it – trying to make us feel brave and optimistic, when in the middle of a course of chemotherapy all you want to do is curl up on a sofa and ignore the world for a while.
Let us be realistic. Some people are far more resilient than others. Some are more sanguine. Most, I imagine, are just plain scared of the sudden prospect of a life cut short. Each individual comes with their own unique temperament and degree of optimism, and surely there's nothing wrong in that. When my maternal aunt was diagnosed with breast cancer at the same time as me, we couldn't have reacted any more differently. Her religious faith unquestionably had a major influence in how she perceived her disease and she put herself totally in the hands of her clinicians and her God. I respected her for it and never attempted to make her see things otherwise, but it could not have been further from my own approach, which was to question just about everything along the way.
The language of the media
So, who held the moral high ground? Well, neither of us really, because to me there is no right or wrong in this – only the fact that human beings possess their own thoughts and opinions, and providing they are not impinging on the lives of others in an offensive or pejorative manner, then they should be left alone. It's called respect and sadly there's a good deal less of it now than there used to be. Not infrequently I find myself on the wrong side of how cancer is conveyed through many media outlets.
I don't believe that any of my friends 'fought battles' with a disease that ultimately ended in their deaths but I do believe that each and every one of them challenged life with a fistful of humour, determination, grace and generosity. They were often physically sick, mentally exhausted and emotionally strained. They were frequently bereft at the prospect of not seeing their children grow to adulthood. And yes, they certainly, in their own individual ways, owned a kind of 'fighting spirit' that even now I wonder at and continue to admire. Yet to liken their lives living with cancer to a battlefield would be wholly disingenuous.
Worse still, death from cancer is commonly defined as someone having lost their battle, suggesting that they were somehow a victim who did not fight hard enough. It's time, surely, to find some alternative and forgiving terminology of a life having been well lived, albeit under the shadow of a sometimes undiscriminating foe.
Things I wish I'd known
So, 30 years on from my own cancer diagnosis is there much that I would have done differently? Probably not. But because there was an element of groping around in the dark at times, there are things I wish I'd known then that I can see more clearly now. Looking back, I would include more of these:
Write your feelings down (curse if you like – you can always destroy the evidence afterwards)
Join a support group (only when you feel like you're ready)
Share how you feel (but be selective)
Do your homework (though be discriminating about what you read on the internet)
Accept that life can be unfair and unpredictable
Allow yourself to feel miserable (hopefully things will improve)
Help other people if you can (this will always make you feel better about yourself)
… and the one that is sadly missed so often – remember that your partner/spouse is probably feeling utterly helpless and needs support too.
I don't know if I've survived this long because my cancer wasn't very aggressive – or maybe it was and I've just been lucky, blessed, fortunate – call it what you like. But I do know that tomorrow is not a given and that after 30 years my breast cancer can still come back. In the meantime, I'm trying to value what I have and hope that life will carry on being kind enough to me – all being well.
---
This article is part of a series. Read the other posts here: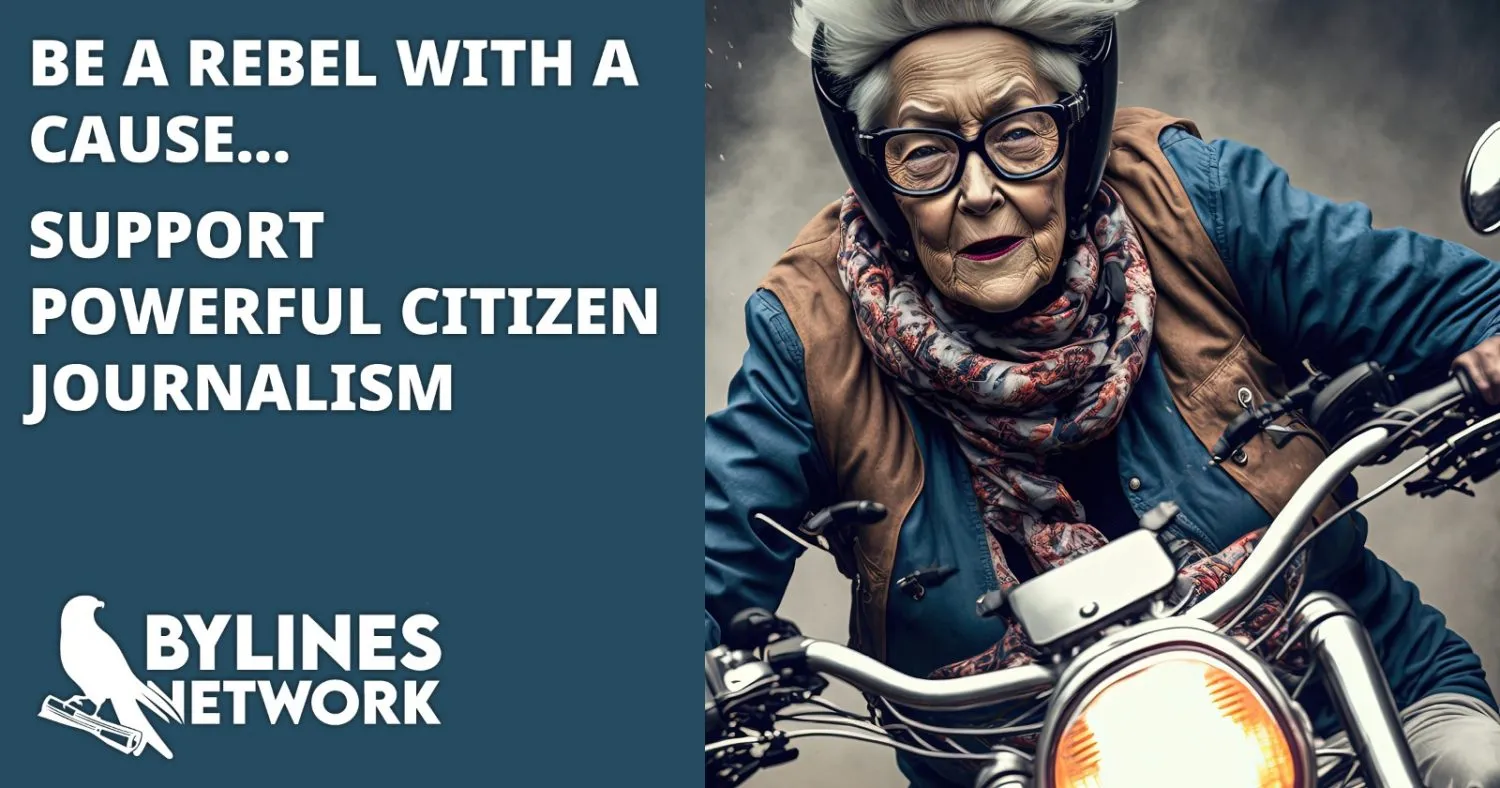 CLICK HERE TO SUPPORT THE BYLINES NETWORK CROWDFUNDER!