Between 24-27 August 2023, Boughton House in Northamptonshire hosted the 50th Greenbelt Festival, a family-friendly event that embraces creativity and community in all its forms.
Sex and death and rock'n'roll
Having waved her wristband at four enthusiastic stewards, the older lady in front of me is confronted with a sign outside the Hope and Anchor (a Methodist non-alcoholic beer tent boasting sofas and board games) announcing it will be hosting discussions on 'Sex' and 'Death'. "Oh, good!" she laughs.
Across the Glade (the main arena), the Jesus Arms beckons and folk crowd in – like the guests at a Canaan wedding where the wine (and real ale) is just the best.
The site sprawls. There are three music stages, a big top for theatre and six marquees hosting talks and discussions ranging from climate justice, the challenges posed by artificial intelligence (AI) and the troubled situation in Israel/Palestine, to what it means to be neurodivergent.
Brian Eno's here, as is former Prime Minister Gordon Brown who's raising awareness of a campaign to make poverty history. You can drift (as I did) from the battle-cry of one of Extinction Rebellion's (XR) co-founders for the establishment of Citizen Assemblies, to Milton Jones' cathartic one-liners.
A better world
Separate programming for young teenagers includes sessions on street dance, zine-making and how to 'Be More Greta'. This may not be PRIDE but while Grace Petrie sings "There's a better world and on a quiet day, if I hold my breath, I can hear her say she's on her way", men in skirts, self-proclaimed butch lesbians and non-binary people provide a brief glimpse into that world as they walk proud.
In the food area, the United Reformed Church boldly proclaims 'Our Food is Rubbish' as they serve up meals from the waste of others. Elsewhere the composting loos present their own challenge but sawdust is provided to help you 'Scoop and poop.'
Where else (apart from the WOMAD Festival) can you enjoy the virtuoso playing of Suntou Susso, a Mandinka Griot who transmits oral history through his songs played on a kora, a 22 string harp-lute and performances in Arabic, Ukrainian, Gambian and Swahili?
In the quiet of the tiny Rebel Rouser stage under the trees, Palestinian video artist and musician Bashar Murad talks of the difficulties he finds in trying to work – especially since he's gay – marooned in East Jerusalem and how music helps him deal with the day-to-day violence: "When I get on stage in a wedding dress and I see people from Ramallah cheering, it shows that there are people like me."
For Murad's set on the festival's mainstage, he is joined by the drummer from Hatari, the Icelandic finalists at Eurovision 2019. There he leads the predominantly Christian audience in a soaring rendition of John Lennon's Imagine. At Greenbelt it seems almost anything is possible.
Alongside a Ukrainian refugee choir, Balaklava Blues's pounding bass beat and ululating vocals storm the mainstage, as a sinister hooded presence announces their fight is "not a war against a country", but "a war against tyranny."
The 50-year challenge
Next morning, the life of Gustavo Parajón is celebrated by the crowd in the main arena saluting, 'Presente!' The now-deceased Nicaraguan-born Nobel Peace Prize nominee was a Greenbelt regular and embodied its commitment to promoting a just world.
Elsewhere, Dr Claire Gilbert talks of the fourteenth century anchoress Julian of Norwich's visions while Eve Poole explains why life with AI will only be possible if, along with all the utilitarian stuff, we programme in the junk code of life and help it to develop its own soul.
The festival has survived into its 50th year and it celebrates in typical fashion with '50 for 50', a campaign to find 50 new hosts for Ukrainian refugees. By Sunday, they've done it.
What have I learned from this unique party? From the vulnerability of Sambambo – sax-player, singer and songwriter in the best jazz tradition – that a cynical heart can still be touched, from the humility of 78-year-old Bruce Cockburn as he jammed on the Orchard Stage, that ego must always bow to love.
The festival's quietly beating heart remains its Sunday Communion Service – this year led by Carrie and David Grant – but its lifeblood is inclusivity. "The only thing we need to have faith in", says the Greenbelt Festival manifesto, "is the difference we can all make together".
Greenbelt: sharing a bed with a mosquito
It is impossible to capture Greenbelt's ambition as it attempts to practise what it preaches, to limit its environmental impact and encourage fairness. No tent? You can rent one that was previously abandoned on one of the nation's other festival campsites. Can't afford to go? Subsidised tickets are available, funded by better-off supporters voluntarily paying more than face value.
From its beginnings back on a Suffolk farm in 1974, it has never been an ordinary festival. It has always been a place where people care for the world and for each other. It has always challenged and never been comfortable.
Quoted in the festival programme, the Dalai Lama sums it up perfectly: "If you think you are too small to be effective, you have never been in bed with a mosquito".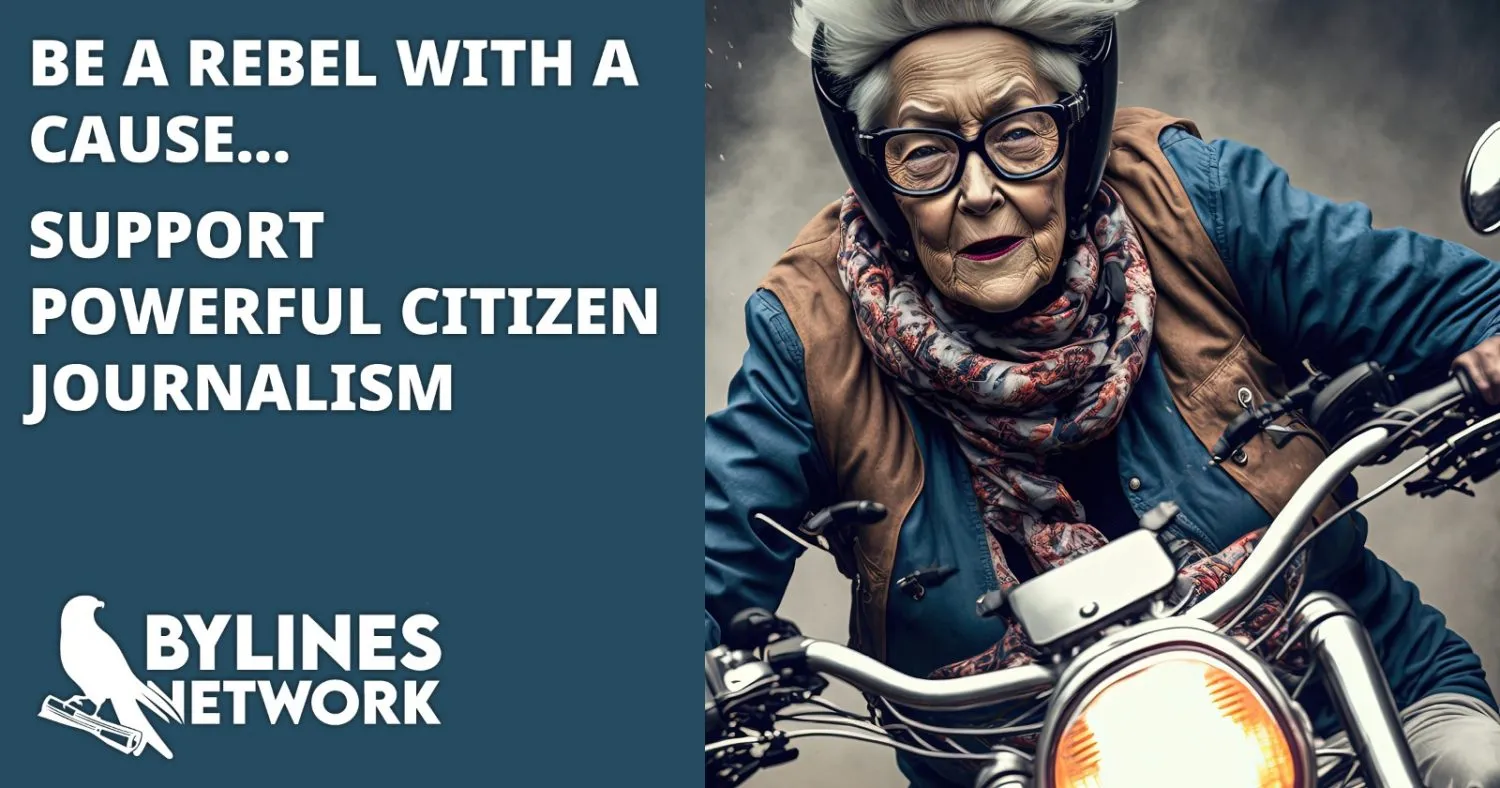 CLICK HERE TO SUPPORT THE BYLINES NETWORK CROWDFUNDER!