It's not easy, being a copper, right now. Boris Johnson's much-vaunted claim in 2019 that his Conservative government would magic up 20,000 more police officers somehow forgot to mention that by 2017, absolute numbers were 22,000 lower than they had been in 2008. Two years after Johnson's announcement, fewer than 9000 more officers had actually been added. The force is still undermanned.
In addition, the profession as a whole has an image problem, particularly when it comes to issues of race. Chris Kaba was fatally shot in London by a Metropolitan police officer on 5th September. He is one of thirty five Black men who have been killed either in police custody or after contact with the police since 2011. Among ethnic minority Britons, trust in the police force is falling precipitously.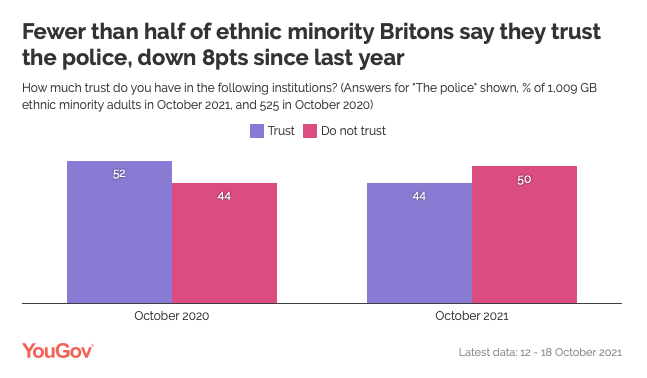 At the same time, people are reeling under an unprecedented cost of living crisis which will see one in four of us living in poverty. The risk of civil unrest is rising.
For a service that polices by consent, this is a troubling, potentially explosive state of affairs.
Against this background, BBC Three drops its new behind-the-scenes series, Fresh Cops,on Sunday 25 September. The four-parter follows some of Leicestershire Police's youngest recruits on the frontline, as they start out on their careers.
The timing could hardly be better.
Leicester
Leicester is a city of some 330,000 people. The Leicestershire force serves a population of nearly half a million across the city and the wider, often remote rural area. In the city itself, more than half of the residents are not white British and nearly 40% are Asian.
In 2019, the make-up of the Leicestershire police force showed a higher proportion of white officers (more than 90%) than the local population and a lower proportion of officers from any other ethnic group. Within the urban area particularly, this disparity must be stark. The majority non-white population of the city is policed by an overwhelmingly white force.
Last weekend, areas in the east of Leicester experienced what the police called 'serious disorder' between groups of Hindu and Muslim men. To date, 47 men have been arrested. The disorder appeared to have been provoked by a small number of agitators acting on each side.
Sunder Katwala is the director of British Future, an independent thinktank and charity that works with people on issues of integration, immigration, identity and race. He feels that what is needed is "a stronger mobilisation of mainstream voices, both within and across communities, to actively delegitimise the claims of agitators to speak for communities or be defending them."
The police could be – arguably, should be – at the vanguard of such work. But how realistic is that when trust in the service is so low?
Fresh Cops
And so we come to Fresh Cops. The BBC Three series closely follows a small and diverse band of young officers, working in and around Leicester. The group includes Adam, Leicestershire police's first Somali recruit and Khadeejah, the force's first frontline officer to wear the hijab as part of her uniform.
The programme is very sharp, very 'now'. It's immersive. There's no all-knowing narrator just bright neon captions, split frames and pulsing beats. Issues of race are not put front and centre but are obviously part of every day life. Adam apprehends a burglar who turns out to be a victim of modern slavery. Khadeejah tries to interview a battered woman who can't speak English. At different times, both remark on the importance (and the novelty) of ordinary people seeing police officers that look like them.
By the end of the series, Khadeejah has embarked upon the process of becoming a mentor; she wants to help other young women who join the force. Adam, meanwhile, goes back to east Leicester, to visit his old beat. He's chuffed to be the city's first Somali officer and dreams of inspiring others from his area to follow his example. "I look like them, I speak like them. I understand their religion, I understand their culture..it's about giving back."
Both of them are trying to change the face of the Leicestershire police force. Time – and perhaps a second series – will tell us whether or not they succeed.
Fresh Cops, episodes 1 and 2, airs on BBC Three on Sunday 25th September, at 9pm. The entire series will be available online.
---