The Arts and Crafts Movement was an influential and far-reaching design movement. It covered decorative arts, furniture design, arts and architecture. It had a profound effect on the interior design of homes and public buildings throughout Europe, America, Scandinavia, and Japan.
The Arts and Crafts Movement began in the 19th century as a reaction against mass-production made possible by mechanisation. It is a vast and complex subject involving not only well-known names, such as William Morris, but also other not so familiar ones. Initially, at least, the movement involved a view of society as well as of art.
Key artists in the Arts and Crafts Movement
For this article, I have chosen ten examples of art, architecture, and decorative objects which conform to the principles of the movement, most of which can be seen in the Midlands.
The house was inherited by Geoffrey Mander, a local paint manufacturer and Liberal M.P. in 1937. He persuaded the National Trust to take on the house when it was just 50 years old.
Manders' parents had taken their inspiration for interior design from Oscar Wilde's lecture on The House Beautiful delivered during Wilde's tour of America in 1882. Wightwick contains a large collection of Pre-Raphaelite paintings, De Morgan tiles, and beautiful objects from Japan and China as well as the designs of William Morris and his contemporaries in the arts and crafts movement.
Established in 1926 on the site of a pottery dating back to the early 1800s, it is one of the longest running potteries in the country. Originally called Greet Potteries, it produced a range of practical 'farmhouse ware'.
Michael Cardew, who took over the pottery when the owner died, was a student of Bernard Leach, regarded as "the father of studio pottery." Cardew wanted his pottery to be used regularly, on a daily basis, and he followed a classic English slipware style using red earthenware Winchcombe clay.
The wardrobe can be seen in the Ashmolean Museum in Oxford. It was designed for The Red House in Bexleyheath. This lavishly decorated wardrobe was given to William Morris and his wife Janey as a wedding gift in 1859.
The painting on the left hand door depicts scenes from The Prioress's Tale by Geoffrey Chaucer and reflects the interest in medievalism and poetry that was current at the time. The figure of the Virgin was modelled on Jane Burden, William Morris's new wife.
Cymric cigarette box by Archibald Knox for Liberty and Co. (decorative object)
Charles R Ashbee who had founded the Guild of Handicrafts in Chipping Camden viewed the competitiveness of Liberty and Co. of London as a contributory factor to the demise of the Guild in the early 20th century.
Archibald Knox had worked for the architect Hugh Baillie-Scott who introduced him to Liberty. This box, created in Birmingham in 1903-4, shows a fluidity of design and use of semi-precious stones which can be linked to Continental Art Nouveau.
Knox also designed jewellery and clocks as well as other decorative objects. Knox was born in the Isle of Man and his work frequently shows the Celtic patterns and symbols found on ancient stone crosses on the island.
This church, the architect's last work, was constructed like no other in the world. The thick walls of local red sandstone are plain, and the nave is carried on simple pointed arches that spring from just above floor level. The curve of the roof is concrete whilst the exterior is thatched.
This combination of concrete and thatch has proved to have excellent thermal insulation. All Saints was commissioned by Alice Foster, the American wife of Arthur Foster who came from a Halifax mill-owning family.
The church is almost cathedral-like inside. Despite its plain exterior, the interior is very distinctive. It is decorated inside with rich carvings of local wildflowers, tapestries on either side of the altar were designed by Burne-Jones, and the stained glass by Christopher Whall.
Cliff began working in the pottery industry as a 'gilder' by adding gold lines to traditional wares when she was only 13. She learned freehand painting whilst studying at the Burslem School of Art in the evenings.
Later on, Cliff was allowed to decorate some of the defective whiteware. She chose her own freehand patterns, using on-glaze enamel colours and covering defects with triangles and other geometric shapes.
Carrying on the principles of the Arts and Crafts Movement, Clarice Cliff applied modern aesthetics from the wider arts movement to functional domestic ceramics. She deliberately asked her painters to use thick brush strokes to show the work had been done by hand.
Another Burslem potter whose works are highly collectible was William Moorcroft.
As an employee of James MacIntyre, he was allowed to experiment with different clays, glazes, and colourings. His work was sold in large numbers through Liberty and Co. in the early 20th century as part of their Florian range.
Winterbourne House, Edgbaston, Birmingham (architecture, furniture and decorative objects)
Winterbourne is a rare surviving example of a suburban villa and garden in the arts and crafts style. Built in 1904 for John Nettlefold and family, the design followed the style of the Arts and Crafts Movement with examples of local craftsmanship in the furniture and decorative objects.
A local architect, Joseph Lancaster Ball incorporated many arts and crafts design features such as large windows to capture the light, medieval influences such as the plasterwork and the window furniture. The garden was largely designed by Margaret Nettlefold who was heavily influenced by the garden designer Gertrude Jekyll.
Robert Welch, Silversmith and product designer, High Street, Chipping Campden (silversmith, cutlery design) Welch trained as a silversmith at the Birmingham School of Art after National Service. He went on to the Royal College of Art joining David Mellor and Gerald Benney. All three would become renowned in their field.
One of Welch's prototype designs was adopted by J & J Wiggin, a small family firm in Bloxwich, Staffs. At the time, the company was the only British manufacturer of stainless steel cutlery.
In 1955 he was appointed as their consultant designer. He established a workshop and studio in Chipping Campden, in the old silk mill, formerly the home of Ashbee's Guild of Handicrafts.
Burne-Jones became a founder member of Morris, Marshall, Faulkner and Co. He was a Pre-Raphaelite artist but, working for the company founded by William Morris, he was able to develop and perfect his skills as a craftsman and designer.
Burne-Jones had impressive skills as a draughtsman which would impact on his designs for stained glass. He played a major part in the rejuvenation of stained glass art in Britain. His work can be seen in St Philip's Cathedral and St Martin's in Birmingham.
Burne-Jones provided the initial design for tapestries, contributing watercolour and body-colour paintings to guide the professionals making up the tapestries. He appreciated the potential of producing many replicas from an original artwork providing welcome publicity, and income, for the firm of Morris and Co.
One of his most famous tapestries is called The Adoration of the Magi which was woven in 1894 in wool and silk. It is now in the collection of Manchester Metropolitan University.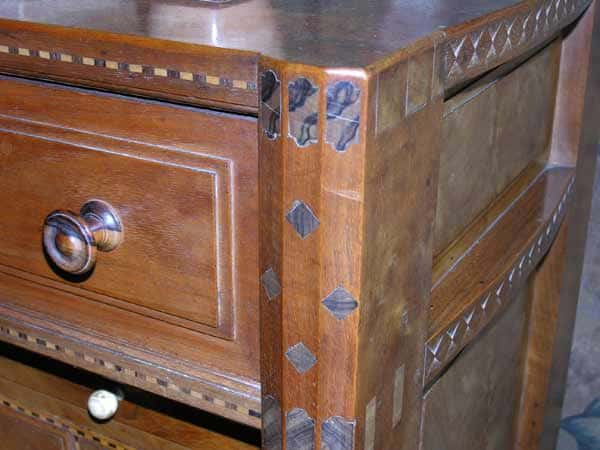 Sidney Barnsley had trained as an architect with Richard Norman Shaw in London. In the early 20th century he and his brother Ernest and the architect Ernest Gimson moved to Pinbury Park, Sapperton near Cirencester, Gloucestershire.
In the workshops there, Sidney honed his carpentry skills making cabinets, chests and tables, all showing the constructional details. Sidney concentrated on adapting old traditions and techniques to new uses. He formulated the 'Sapperton style' along with Ernest Barnsley and Ernest Gimson.
The style emphasised the use of English hardwoods, exposed dovetail joints, and decorative stringing. Barnsley's furniture can be seen at Owlpen Manor, Dursley, Gloucestershire, Stoneywell in Leicestershire (N.T.) and at the Wilson museum and art gallery in Cheltenham.
At their most idealistic, the proponents of the Arts and Crafts movement wanted to change society by transforming the work process. The First World War is considered to mark the demise of the Arts and Crafts Movement although, it could be argued that there were many factors in play. The labour intensive nature of hand-crafted products meant they were inherently more expensive. William Morris himself was never able to solve this paradox. His goal was to create democratic art for the masses but his goods were increasingly sold to an elite. Many practitioners were forced to adopt machine production leading inevitably to a decrease in quality. Others simply went out of business. However, some pockets did survive well into the 20th century and in 1916, in the middle of the First World War, the Arts and Crafts Exhibition Society held its largest ever show at the Royal Academy.
There are still artisan art and craftspeople working today carrying on the traditions of the Arts and Crafts movement.
---
If you want to read more about the Arts and Crafts Movement, you can read part one of this article HERE.