The Americans have a word for it. Well, three in point of fact. Voice an opinion or position an American thinks doesn't add up and you're quite likely to be invited to 'Do the math!'
Despite the dubious grammar, it's a phrase that's increasingly finding itself in use by those questioning the rationale of hiking interest rates to combat today's inflation spiral. After doing the math, any number of economic megabrains are now coming round to the view that the strategy is a case of the rate-increasing central bank kings having no clothes.
Hiking interest rates has no effect
More and more are supporting the standpoint that hiking interest rates will not only have no effect on tackling the basic underlying cause of the current inflationary trend – soaring world energy prices – but could ultimately end up making matters worse.
Take, for example, the outspoken view of arch rate-hiking rebel David Blanchflower. Formerly a member of the Bank of England's interest rate setting committee and now economics professor at a highly respected US research institution, Blanchflower has long been scathing about the policy and seems to have even persuaded the never overly anti-establishment Daily Express round to his way of thinking.
In mid-May, the paper carried an article highly critical of the interest rate hiking measure with Blanchflower quoted as saying the strategy is, quite simply, wrong. "This is utter incompetence that is going to hurt people," he says. "The consequences are going to be much worse than the cost of inflation […] and will force the UK into recession."
He's not alone in the view. Other financial experts quoted in the article have reached the same conclusion … based on having done the math.
Staring us in the face
In effect, they're reacting (at last) to what's been staring us all in the face for months – that the current inflationary trend is rooted in an energy price rise spiral over which no central bank (other than Russia's) has any control. All other price rises stem from soaring energy costs and no amount of bumping interest rates up is going to bring world oil and gas prices down.
And it gets worse, says Blanchflower. Raising rates just at a time when energy price rises are really hurting just exacerbates the problem. It's like loading one pain onto another and all this could have been avoided had someone bothered to take a look at what's really going on, as no more than a cursory look at four basic financial charts reveals.
The charts in question document trends in the world oil price, the world gas price, the UK's inflation rate and UK producer input costs over the last five years. Every one of them shows the exact same hockey stick profile, trundling along at relatively stable levels until late 2021 when the curve goes stratospheric. Something lights the blue touch paper and we have near-vertical lift-off.
What happened?
That something was a sudden upward trajectory in world gas prices, a shift that didn't start at the beginning of Russia's February 2022 invasion of Ukraine as much of the media has been inferring. Russia had already started hiking fossil fuel export prices in mid-2021 to build up its 'special military operation' war chest.
In the UK, since domestic consumers were insulated from the rises by energy price controls, in mid to late 2021, alarm bells didn't immediately start ringing.
They did for the UK's commodity producers. Not similarly insulated, their costs started rising in 2021 and pressures to start passing them on to consumers began to mount. Result – the start of the current inflationary spiral, over which central banks like the Bank of England cannot possibly have any control.
So what to do in the current circumstances? 'Leave well alone,' is the underlying message in Blanchflower's exasperated outburst. Reading between the lines, he's effectively saying: 'The current inflationary trend is a bushfire that'll burn itself out in time if ring-fenced and left to its own devices. Resorting to the nuclear option of hiking interest rates to tackle this inflation is like using weapons designed for conventional warfare to fight a guerrilla insurgency. There's going to be a lot of collateral damage as civilians get caught in the crossfire.'
To some extent Blanchflower's prediction is already coming to pass. World oil and gas prices have already peaked and are in the process of falling, their pressure on inflation is receding, rates of inflation across the world are starting to decline and, in the view of some, would fall a whole lot faster were it not for wholly unnecessary jacked-up interest rates adding fuel to the inflation fire.
The Bank of England's response? No change to its conventional wisdom mantra of having to increase rates to combat a long term inflationary trend.
More harm than good
What long term inflationary trend, ask those who've been doing the math? As the UK inflation rate chart shows, before oil and gas prices began soaring the rate for the UK – reflected across much of the developed world – was staying largely in line with targets. Yes, there were fluctuations during the economic turmoil of the Covid pandemic but nothing in the economic runes suggested it might rise to anywhere near the double digit levels reached in the wake of Russia's oil and gas price hikes.
So why keep on with the strategy, asks Fran Boait of the campaign group Positive Money? "The only beneficiaries from the rate rises are the banks," she's quoted in the Daily Express article as saying. "Rate hikes are doing more harm than good. It's time to put the brakes on and support families, not heap further costs on them."
There aren't many facing substantial increases in mortgage repayments who'd take issue with that. Ask anyone affected and you're likely to see a look of seething anger cross their face.
Already hammered by spiralling energy, food and transport prices, the feeling abroad is that the central banks' decision to saddle the average Joe with higher interest rates on top of these costs, scooping the subsequent rewards in the process, is tantamount to a legitimisation of bank robbery.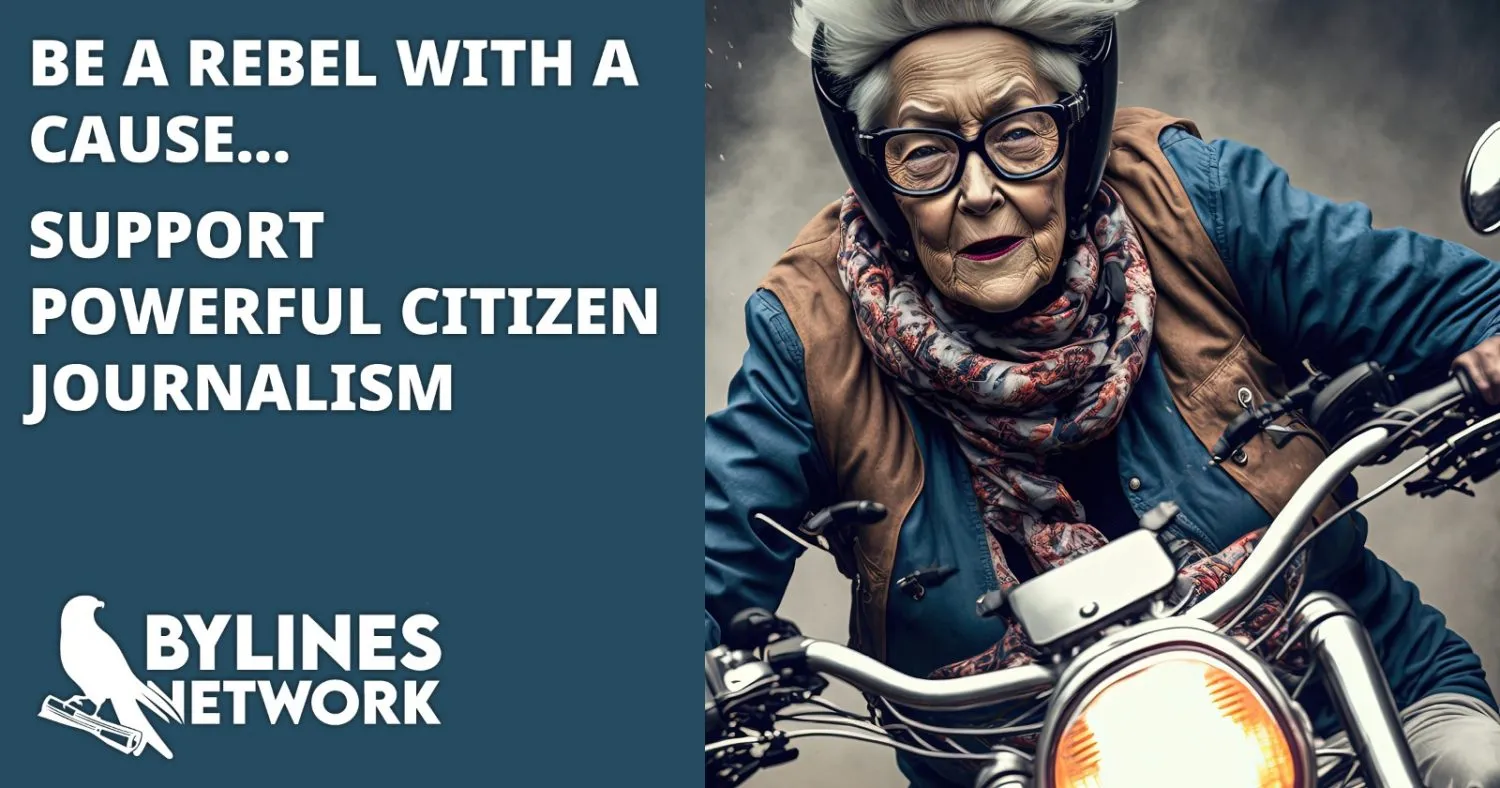 CLICK HERE TO SUPPORT THE BYLINES NETWORK CROWDFUNDER!